Investigasi Other Comprehensive Income Pada Industri Paska Implementasi IFRS 2012 (Studi Empiris pada Perusahaan Industri Yang terdaftar di Bursa Efek Indonesia Periode 2012-2015)
Abstract
The purpose of this study is done to investigate how the implementation Other comprehensive income after the implementation of IFRS (Empirical Study on Agricultural Industrial listed in Indonesia Stock Exchange in 2012-2015).Data sampel collection techniques in this study is the population sampel data that all companies engaged in the agriculture sector listed on the Stock Exchange resulting in 21 corporate data. Data required in this study were obtained from the Indonesian Capital Market Directory (ICMD) and the Indonesia Stock Exchange (BEI). Data analysis method used was Crosstab Analysis and Cramer V with help from statistic program SPSS with 10% significance. The study concluded that among the companies presenting and not presenting OCI component in Other Comprehensive Income, there are no significant differences. This may be explained in Prob. Significance greater than 0.1%.
Keyword  : Other Comprehensive Income Component, Other Comprehensive Income
Downloads
Download data is not yet available.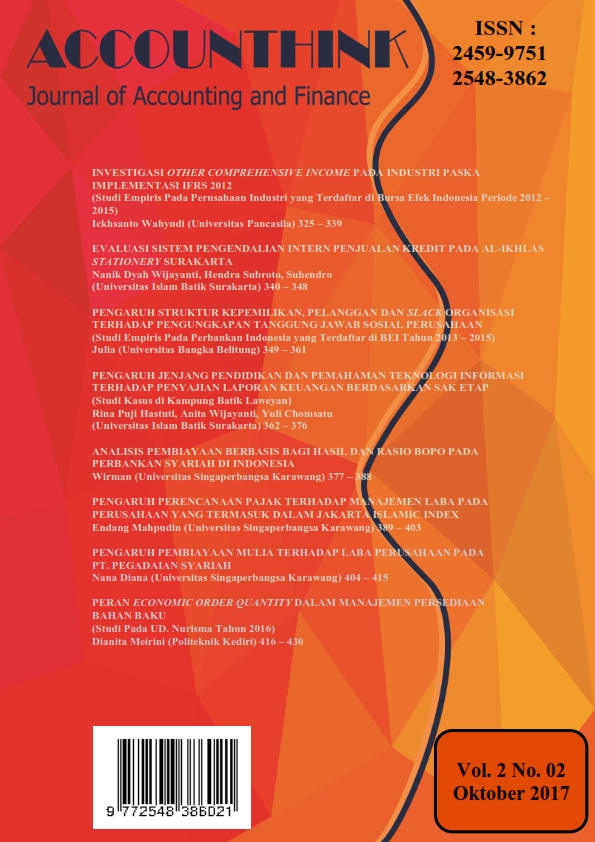 Downloads