Evaluasi Sistem Pengendalian Intern Penjualan Kredit Pada Al-Ikhlas Stattionery Surakarta
Abstract
Sales are very important in the survival of the company's business, the need for good internal control so that operations run effectively and efficiently. Therefore, this study aimed to determine the application of the internal control system of credit sales and analyzing it is appropriate or effective internal control system at Al-Ikhlas Stationery Surakarta. Previous research evaluation of internal control system of credit sales (Case Study at PT. Sinar puree foods International Manado) etc. Population and sample in this study are employees of Al-Ikhlas Stationery Surakarta that has nothing to do with need the document. Technical analysis of the dataconducted interviews with the leadership of Al-Ikhlas Stationery on the organizational structure of Al-Ikhlas Stationery as well as the duties and responsibilities per each each piece. Studying credit sales procedures in force in Al-Ikhlas Stationery. Collect the forms related to credit sales.
 Keywords: Internal control system, credit sales
Downloads
Download data is not yet available.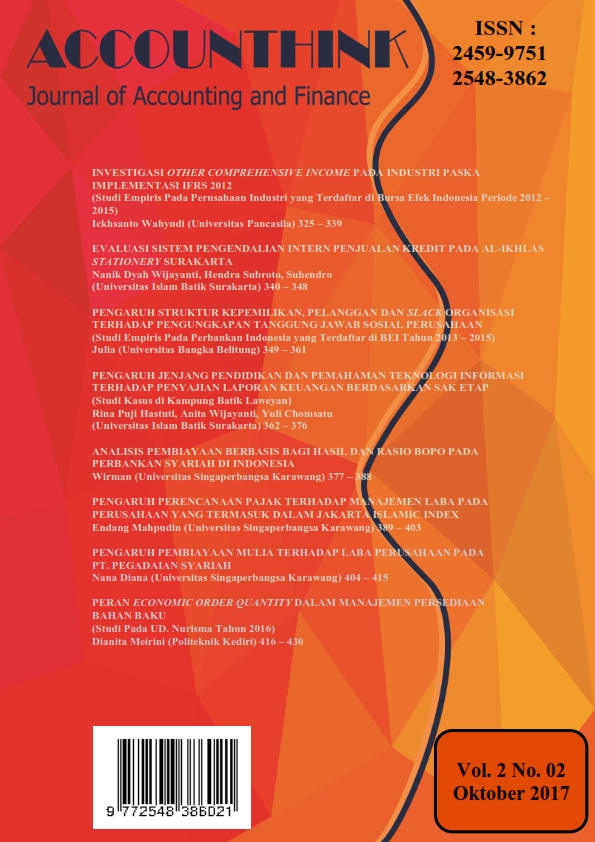 Downloads