Aplikasi Pengenalan Tarian Dan Lagu Tradisional Indonesia Berbasis Multimedia
Abstract
Keaneka ragaman adat dan budaya di Iindonesia sebagai warisan nenek moyang yang tidak ternilai harganya merupakan salah satu cerminan masyarakat Indonesia sebagai makhluk bermoral, berakal dan berperasaan. Keanekaragaman adat dan budaya Indonesia seperti upacara adat, kesenian, tari-tarian, senjata tradisional, lagu-lagu daerah dan pakaianadat memiliki nilai-nilai moral yang dapat dijadikan landasan dan diimplementasikan di kehidupan nyata. Dalam upaya melestarikan budaya Indonesia perlu adanya pengenalan tentang adat dan budaya Indonesia terhadap putra dan putri bangsa sejak usia dini agar budaya nusantara  tetap lestari dan tidak hilang bahkan punah, terutama tari-tarian dan lagu nusantara yang selalu menjadi kekuatan dan ciri khas dari budaya Indonesia di mata dunia. Membangun multimedia interaktif merupakan inovasi yang tepat dalam memperkenalkan budaya Indonesia. Metode dalam pengembangan aplikasi ini menggunakan Interactive Multimedia System Design & Development Cycle secara khusus memberikan pembahasan mengenai tahapan pengembangan dan perancangan untuk sistem multimedia interaktif, hasil dari pembuatan aplikasi di uji terlebih dahulu dengan white box testing sebelum di publikasikan.
Downloads
Download data is not yet available.
References
Al-Bahra Bin Ladjamudin, Analisis dan Desain Sistem Informasi, Yogyakarta, Graha Ilmu, (2005).
Iwan Binanto, (2010), Multimedia digital - dasar teori dan pengembangannya, Yogyakarta.
Jannner S. (2010). Rekayasa Perangkat Lunak. Yogyakarta: C.V Andi Offset.
Jogiyanto H.M (2005). Analisis & Desain, Yogyakarta: C.V Andi Offset.
Kristo Radion, (2012), Easy Game Programming Using Flash: Yogyakarta.
Vaughan, (2004), Multimedia Aplication, Penerbit Andi, Yogyakarta.
Charles Gunawan, (2013), Aplikasi Perangkat Ajar Pengenalan Seni Dan Budaya Indonesia "Petualangan Sibi" Untuk Sekolah Dasar Kelas VI, Jurnal: BNUS: Jakarta.
Selpan Tetoni, (2010), Pengenalan Aneka Ragam Adat Dan Budaya Yogyakarta Melalui Media Interaktif Pada Sekolah Dasar Negeri Perumnas Condong Catur, AMIKOM, Yogyakarta.
Nana Sutiana (2012). Rancang Bangun Aplikasi Pengenalan Alfabet Berbasis Multimedia Dengan Model Luther-Sutopo. Tasikmalaya: TIK.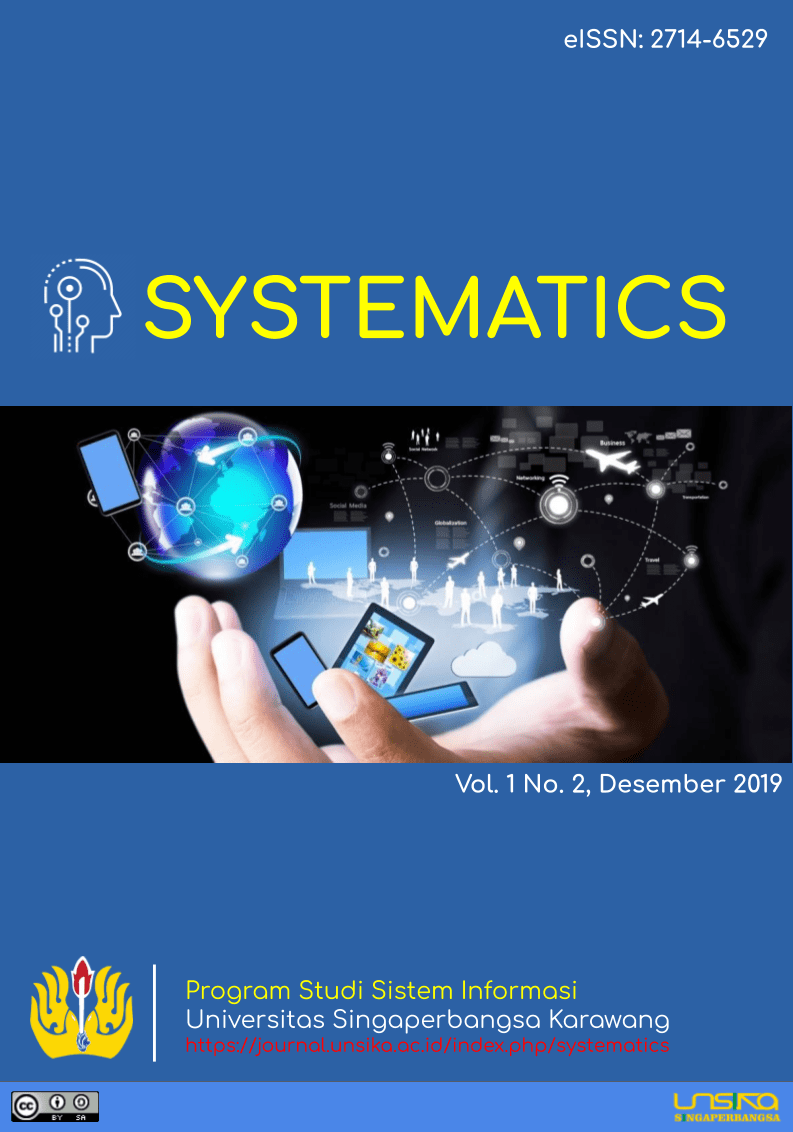 Downloads
How to Cite
[1]
B. Priyatna, S. Shofia Hilabi, N. Heryana, and A. Solehudin, "Aplikasi Pengenalan Tarian Dan Lagu Tradisional Indonesia Berbasis Multimedia", Systematics Journal, vol. 1, no. 2, pp. 89-98, Dec. 2019.
License
Copyright (c) 2019 SYSTEMATICS
This work is licensed under a Creative Commons Attribution-ShareAlike 4.0 International License.
Authors who publish with this journal agree to the following terms:
Authors retain copyright and grant the journal right of first publication with the work simultaneously licensed under

a 

Creative Commons Attribution-ShareAlike 4.0 International License

.

 that allows others to share the work with an acknowledgement of the work's authorship and initial publication in this journal.
Authors are able to enter into separate, additional contractual arrangements for the non-exclusive distribution of the journal's published version of the work (e.g., post it to an institutional repository or publish it in a book), with an acknowledgement of its initial publication in this journal.
Authors are permitted and encouraged to post their work online (e.g., in institutional repositories or on their website) prior to and during the submission process, as it can lead to productive exchanges, as well as earlier and greater citation of published work (See The Effect of Open Access).