Implementasi Algoritma Advanced Encryption Standard (AES) untuk mengamankan File Video
Abstract
Kriptografi merupakan suatu metode yang dapat digunakan untuk mengamankan data. Data yang biasanya diamankan menggunakan kriptografi adalah data teks. Data teks biasa digunakan dalam pesan untuk berkomnikasi. Isi pesan tersebutlah yang diamankan dengan kriptografi. Prosedur utama dalam kriptografi ada dua, yaitu enkripsi dan dekripsi. Enkripsi merupakan prosedur yang dilakukan untuk menyandikan suatu data atau pesan asli menjadi data atau pesan bersandi. Sebaliknya, dekripsi merupakan prosedur yang dilakukan untuk mengembalikan pesan atau data yang disandikan menjadi pesan atau data asli seperti semula. Kriptografi memiliki beragam algoritme, salah satunya yaitu algoritme Advanced Encryption Standard (AES). AES merupakan salah satu algoritme kriptografi yang memiliki tingkat keamanan yang tinggi. Pada penelitian ini dilakukan implementasi algoritma AES untuk mengamankan data berupa video dengan format mp4. Pengujian dilakukan dengan menggunakan aplikasi kriptografi yaitu CrypTool. Untuk dapat dienkripsi dan didekripsi, data video diubah dalam bentuk HexDump. Dari penelitian ini dihasilkan bahwa algoritme AES efektif untuk mengamankan data video. Data video yang terenkripsi tidak dapat diputar dengan media player dan tidak memilik detail informasi seperti data aslinya. Akan tetapi ketika didekripsi data tersebut berhasil diputar secara normal dengan media player dan memiliki detail informasi seperti data aslinya.
Downloads
Download data is not yet available.
References
Kurniawan, D., & Priyatna, B. (2018). Pengamanan data berbasis mobile android dengan penggabungan linear feedback shift register (lfsr) dan modifikasi matriks kunci algoritma kriptografi playfair cipher. Jurnal TELEMATIKA MKOM Vol, 10(1).
Mayasari, R., & Heryana, N. (2016). Perancangan Aplikasi Penyembunyian Pesan Teks Terenkripsi pada Citra Digital Menggunakan Metode Least Significant Bit (LSB). Syntax: Jurnal Informatika, 5(1), 86-92.
Esslinger, Bernhard. & the CrypTool Team. (Agustus, 2017). The CrypTool Book: Learning and Experiencing Cryptography with CrypTool and SageMath. (edisi keduabelas) [Online]. Tersedia: www.cryptool.org.
Farisi, A. (2018). Analisis Kinerja Algoritma Kriptografi Kandidat Advanced Encryption Standard (AES) pada Smartphone, 4(2), 199–208.
Marisman, A. F., & Hidayati, A. (2015). Pembangunan Aplikasi Pembanding Kriptografi Dengan Caesar Cipher Dan Advance Encryption Standard (Aes) Untuk File Teks. Jurnal Penelitian Komunikasi dan Opini Publik, 19(3), 123498.
Wijaya, H. (2020). Implementasi Kriptografi AES-128 Untuk Mengamankan URL (Uniform Resource Locator) dari SQL Injection. Akademika Jurnal, 17(1), 8-13.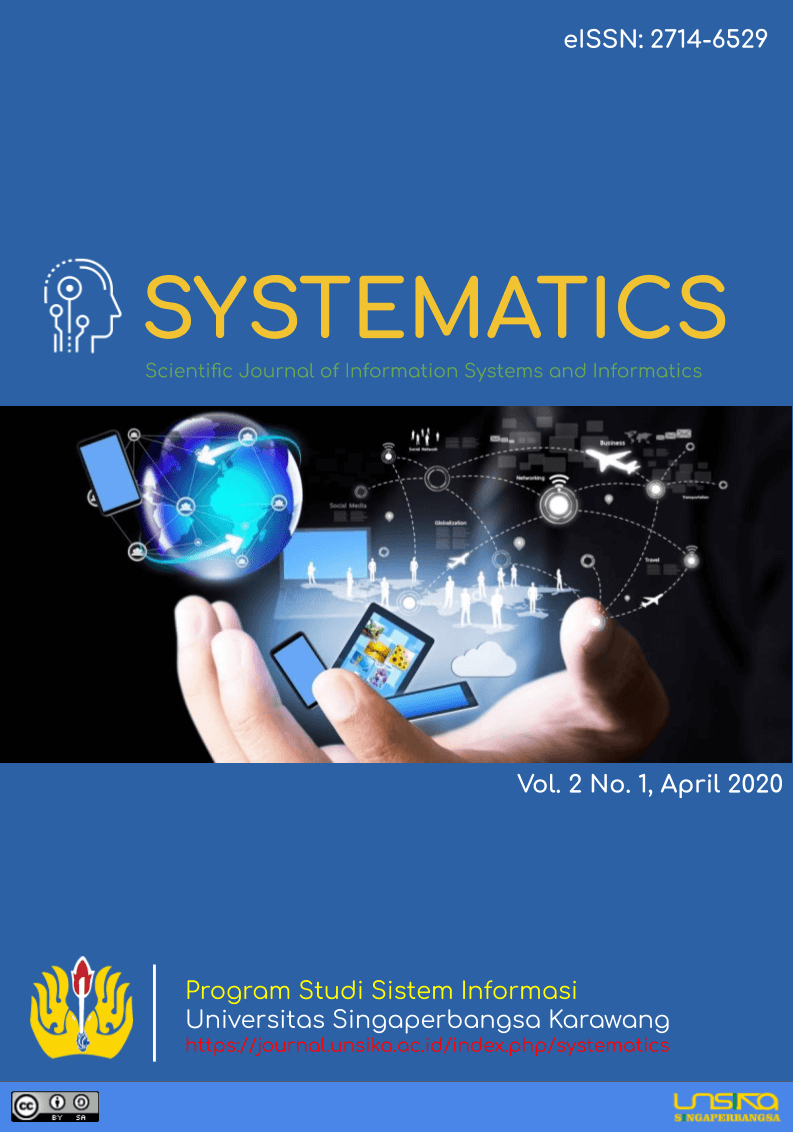 Downloads
How to Cite
[1]
A. S. Y. Irawan, A. Farhan El Ramdhani, M. Jordi, R. Saepul Mahdi, and T. Al Mudzakir, "Implementasi Algoritma Advanced Encryption Standard (AES) untuk mengamankan File Video", Systematics Journal, vol. 2, no. 1, pp. 28-32, Apr. 2020.
License
Copyright (c) 2020 SYSTEMATICS
This work is licensed under a Creative Commons Attribution-ShareAlike 4.0 International License.
Authors who publish with this journal agree to the following terms:
Authors retain copyright and grant the journal right of first publication with the work simultaneously licensed under

a 

Creative Commons Attribution-ShareAlike 4.0 International License

.

 that allows others to share the work with an acknowledgement of the work's authorship and initial publication in this journal.
Authors are able to enter into separate, additional contractual arrangements for the non-exclusive distribution of the journal's published version of the work (e.g., post it to an institutional repository or publish it in a book), with an acknowledgement of its initial publication in this journal.
Authors are permitted and encouraged to post their work online (e.g., in institutional repositories or on their website) prior to and during the submission process, as it can lead to productive exchanges, as well as earlier and greater citation of published work (See The Effect of Open Access).