An analysis of Elementary School Students Errors in Solving Statistics Problems in Online Learning during a Pandemic Period
Abstract
This study aims to describe the errors made by students and their causal factors in solving statistical problems. This study used descriptive qualitative method. Participants in this study were taken by purposive sampling and obtained 4 selected students. Collecting data in this study using tests and interviews. Based on the results of the research that has been done, it can be concluded that some students make mistakes due to poor understanding of the material, errors in writing flow or systematic answers, error processing skills, basic multiplication skills that are still low, and errors in reading graphs. Factors causing student errors are lack of interest in learning due to online learning that is currently being applied only to providing material and assignments from the teacher and the absence of an explanation of material from the teacher even though online, students inaccuracy, lack of mastery of multiplication which should have been mastered by multiplication basis 4th grade level, do not understand the concept of material, do not understand in operating calculations, and students unfamiliarity in writing conclusions.
Downloads
Download data is not yet available.
References
Indra, P. (2017). Analisis Kesulitan belajar matematis dilihat dari Newman analysis procedure siswa SMP, Jurnal Pendidikan dan Pedagogi, 4(2), 11-23.
Jackson, I.R. (2018). Mathematical thinking process in Newman error analysis. Journal in Mathematical and Sciences, 5(2), 432-447.
Kebudayaan, M. P. D., & Indonesia, R. (2020). Surat Edaran Nomor 4 Tahun 2020 tentang Pelaksanaan Kebijakan Pendidikan dalam Masa Darurat Penyebaran Coronavirus Disease (COVID-19).
Misdfelt, W.S. (2016). Students' mathematical process and newman analysis process. Journal for Pedagogical and Procedure, 5(1), 44-59.
Nakayama, M., Mutsuura, K., & Yamamoto, H. (2014). Impact of Learner's Characteristics and Learning Behaviour on Learning Performance during a Fully Online Course. Electronic Journal of e-learning, 12(4), 394-408.
Sandra, J.S. (2019). Mathematical thinking and skills and students' error analysis. Journal Pedagogical Teaching, 6(1), 99-108.
Sulistyaningsih, A., & Rakhmawati, E. (2017). Analisis kesalahan siswa menurut kastolan dalam pemecahan masalah matematika. Matematika, 19(2), 123-130.
Ulifa, S.N. (2014). Hasil analisis kesalahan siswa dalam menyelesaikan soal matematika pada materi relasi. Jurnal Pendidikan Matematika STKIP PGRI Sidoarjo, 4(2), 458-468.
Wijaya, A., van den Heuvel-Panhuizen, M., Doorman, M., & Robitzsch, A. (2014). Difficulties in solving context-based PISA mathematics tasks: An analysis of students' errors. The Mathematics Enthusiast, 11(3), 555-584.
Wiryanto, W. (2020). Proses Pembelajaran Matematika Di Sekolah Dasar Di Tengah Pandemi Covid-19. Jurnal Review Pendidikan Dasar: Jurnal Kajian Pendidikan dan Hasil Penelitian, 6(2), 125-132.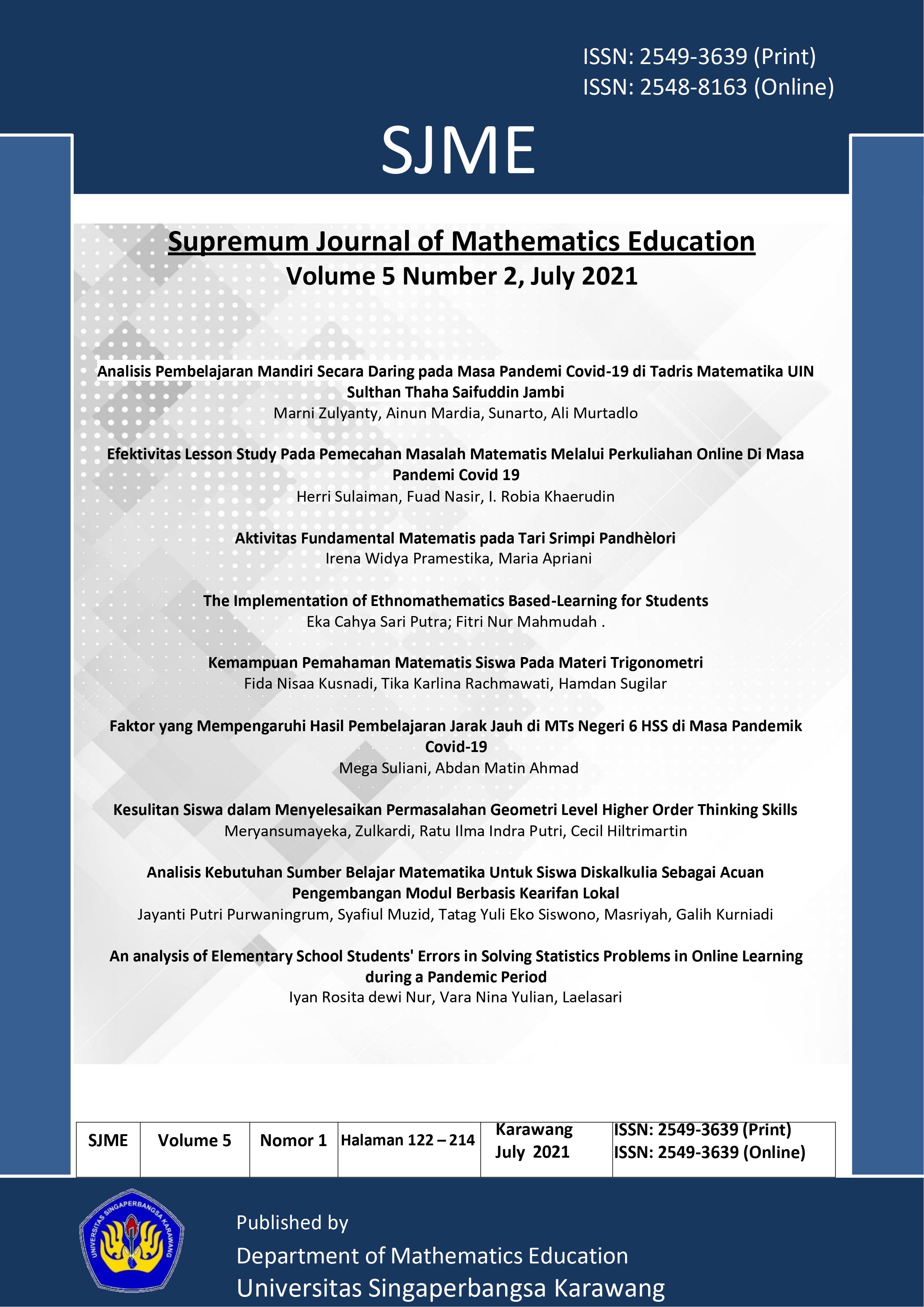 Downloads
License
This work is licensed under a Creative Commons Attribution-ShareAlike 4.0 International License.
Authors who publish with this journal agree to the following terms:
Authors retain copyright and grant the journal right of first publication with the work simultaneously licensed under a Creative Commons Attribution License that allows others to share the work with an acknowledgment of the work's authorship and initial publication in this journal.
Authors are able to enter into separate, additional contractual arrangements for the non-exclusive distribution of the journal's published version of the work (e.g., post it to an institutional repository or publish it in a book), with an acknowledgment of its initial publication in this journal.
Authors are permitted and encouraged to post their work online (e.g., in institutional repositories or on their website) prior to and during the submission process, as it can lead to productive exchanges, as well as earlier and greater citation of published work (See The Effect of Open Access).