Desain Dan Implementasi Customer Relationship Management Berbasis Web (Studi Kasus : Toko Baju Ladya)
Abstract
Pengguna internet di Indonesia tiap tahun semakin bertambah, dari data yang di himpun Asosiasi Pengguna Jasa Internet Indonesia menyebutkan bahwa pengguna internet di Indonesia pada tahun 2013 mencapai 82 juta, ini baru 30% dari penduduk Indonesia. Begitu juga dengan bisnis ecommerce, pertumbuhan pesat pangsa pasar e-commerce di Indonesia memang sudah tidak bisa diragukan lagi. Dengan jumlah pengguna internet yang mencapai angka 82 juta orang atau sekitar 30% dari total penduduk di Indonesia, pasar e-commerce menjadi tambang emas yang sangat menggoda bagi sebagian orang yang bisa melihat potensi ke depannya. Tujuan penelitian ini adalah untuk merancang web site toko ladya sehingga dapat meningkatkan penjualan dan juga bisa mengetahui laba rugi dari penjualan tersebut. Metode untuk pengembangan aplikasi adalah Prototype dan untuk metode untuk meningkatkan penjualan adalah metode Customer Relationship Management (CRM). Alasan pemanfaatan Prototype yaitu pada proses pembuatan sistem lebih mendengar kepada keinginan User sehingga hasil penelitian yang dilakukan akan sesuai dengan yang diharapkan. Tools pendukung yang digunakan pada penelitian ini yaitu, bahasa pemrograman PHP, dan basis data MySQL. Sedangkan untuk penulisan code program menggunakan Codeigneter. Hasil dari penelitian ini adalah Website toko ladya.
Downloads
Download data is not yet available.
References
Adi Nugroho (2010). E COMMERCE. Bandung : Informatika
Budi Raharjo, dkk. Modul Pemrograman Web HTML, PHP & MySQL. Informatika. Bandung. 2011.
Huda, Baenil, and Bayu Priyatna. "Penggunaan Aplikasi Content Management System (CMS) untuk Pengembangan Bisnis Berbasis E-commerce." Systematics, vol. 1, no. 2, 2019, pp. 81-88, doi:10.35706/sys.v1i2.2076.
Eva Yulianti & Ifwandi Putra. (2014). Perancangan Aplikasi Customer Relationship Management (Crm) Pada English Language School (Els) Dengan Bahasa Pemrograman Php. ISSN : 1693-752X.
Freddy Rangkut. Analisis SWOT (2014). Jakarta : Gramedia Pustaka Utama Janner Simarmata. 2009. Rekayasa Perangkat Lunak. Andi. Yogyakarta. 2009.
Leonardo MP, Fany Junianti & A. Wahyu Sudrajat. (2013). Aplikasi Pelayanan Pemesanan Online Pada Digital Printing Ecoprint Palembang. Retrieved from http://eprints.mdp.ac.id/id/eprint/827
Nani Mintarsih & Witari Aryunani. (2013). Pendekatan CRM (Customer Relationship Management) Terhadap Pembuatan Situs E-Commerce Dalam Memaksimalkan Jumlah End User. Retrieved from witari_aryunani.staff.gunadarma.ac.id/.../Pendekatan+CRM.pdf
Priatama, Yoga. 2010. (2012). Perancangan Dan Implementasi Aplikasi CRM Menggunakan Framework CodeIgniter. Retrieved from repository.uksw.edu/bitstream/.../1/T1_672008033_Abstract.pdf.
Priyanto Hidayatullah & Jauhari Khairul Kawistara (2014). Pemrograman Web. Bandung : Informatika.
Gustiana, Y., Jaman, J. H., & Heryana, N. (2018). Rancang Bangun Perpustakaan Digital Berbasis Document Management System pada Fakultas Ilmu Komputer UNSIKA. Jurnal Informatika: Jurnal Pengembangan IT, 3(2), 225-232.
Soetam Rizky. Konsep Dasar Rekayasa Perangkat Lunak. Prestasi Pustaka. Jakarta. 2011
Wahana Komputer & Andi Offset. Adobe Dreamweaver CS 6. Yogyakarta : Andi Offset.
Solehudin, A., Heryana, N., & Cahyana, Y. (2020). Designing and Building Client-Server Based Student Admission Applications. Buana Information Technology and Computer Sciences (BIT and CS), 1(1), 16-18.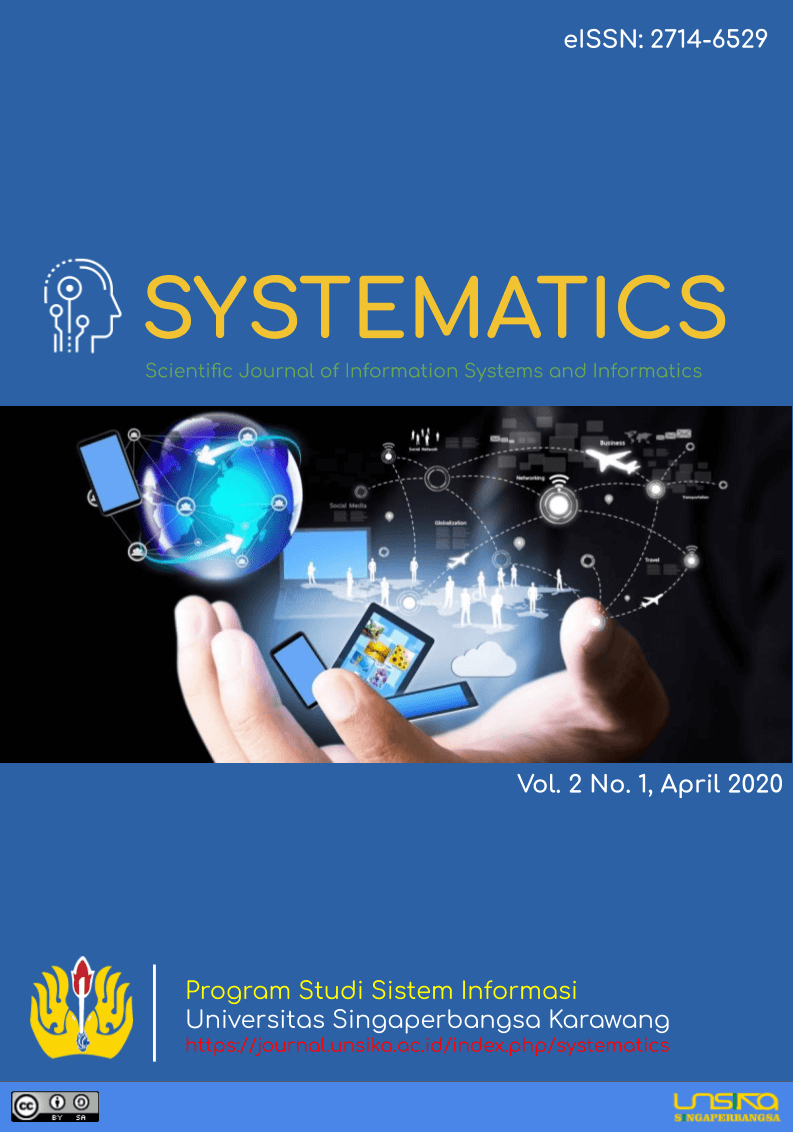 Downloads
How to Cite
[1]
T. Al Mudzakir and A. Bakar, "Desain Dan Implementasi Customer Relationship Management Berbasis Web (Studi Kasus : Toko Baju Ladya)", Systematics Journal, vol. 2, no. 1, pp. 1-11, Apr. 2020.
License
Copyright (c) 2020 SYSTEMATICS
This work is licensed under a Creative Commons Attribution-ShareAlike 4.0 International License.
Authors who publish with this journal agree to the following terms:
Authors retain copyright and grant the journal right of first publication with the work simultaneously licensed under

a 

Creative Commons Attribution-ShareAlike 4.0 International License

.

 that allows others to share the work with an acknowledgement of the work's authorship and initial publication in this journal.
Authors are able to enter into separate, additional contractual arrangements for the non-exclusive distribution of the journal's published version of the work (e.g., post it to an institutional repository or publish it in a book), with an acknowledgement of its initial publication in this journal.
Authors are permitted and encouraged to post their work online (e.g., in institutional repositories or on their website) prior to and during the submission process, as it can lead to productive exchanges, as well as earlier and greater citation of published work (See The Effect of Open Access).