Perbandingan Algoritma Round Robin dan Algoritma Least Connection pada Haproxy untuk Load Balancing Web Server
Abstract
Sekolah Menengah Atas (SMA), Sekolah Menengah Kejuruan (SMK) atau yang sederajat menyelenggarakan ujian kenaikan kelas menggunakan Computer Based Test (CBT). Akan tetapi, dalam pelaksanaanya mengalami permasalahan, salah satunya beban server. Hal tersebut diakibatkan oleh permintaan pengguna yang melebihi kemampuan server. Untuk mengatasi permasalah tersebut digunakanya load balancing web server menggunakan haproxy. Namun penggunaan load balancing web server, sering mengalami inkonsistensi data tiap server. Oleh karena itu digunakan replikasi database yang dapat menjamin konsistensi data dalam load balancing web server. Penelitian ini menggunakan pendekatan deksriptif dengan metode perancangan sitem jaringan PPDIOO. Ada dua algoritma load balancing yang dibandingkan, yaitu algoritma round robin dan algoritma least connection. Berdasarkan hasil pengujian httperf, parameter throughput kedua algoritma memperoleh nilai rata-rata yang sama yaitu 99,5 Kb / second. Pada pengujian parameter response time algoritma least connection lebih unggul yaitu 6,9 ms dibandingkan dengan round robin yang memiliki nilai rata-rata sebesar 7,2 ms, namun pada pengujian parameter CPU Utilization algoritma round robin bernilai 23,7 % lebih unggul dibandingkan algoritma least connection yaitu 24,3 %.
Downloads
Download data is not yet available.
References
Kementrian Pendidikan dan Kebudayaan. (2019, Februari 21).
Artha, Y. (2017). Penerapan Metode Round Robin Pada Jaringan Multihoming Di Computer Cluster. IT Journal Research and Development, 1(2), 26-35.
A. Solehudin and G. Garno, "PROTOTYPE API PADA APLIKASI PEMBATASAN AKSES INTERNET DENGAN PEMANFAATAN HAK AKSES USER PROFILE HOTSPOT", JURNAL REKAYASA INFORMASI, vol. 6, no. 2, Oct. 2017.
Euis, E., & Heryana, N. (2018). Analisis Pemanfaatan Cloud Computing Berbasis Software as a Service sebagai Media Penyimpanan Tugas Praktikum. Syntax Jurnal Informatika, 7(1), 25–31.
Arip Solehudin ,Bayu Priyatna ,Nono Heryana "ANALYSIS OF EFFECT OF ZFONE SECURITY ON VIDEO CALL SERVICE IN WIRELESS LOCAL AREA NETWORK" Vol. 6 - Issue 6(1-8) - November - December2019 , International Journal of Computer Techniques (IJCT) , ISSN: 2394 - 2231 , www.ijctjournal.org
Ardiansyah, S., Nur, J., & Mukmin, M. (2017). Rancang Bangun Load balancing Pada Database Cluster Menggunakan Haproxy. Jurnal Informatika.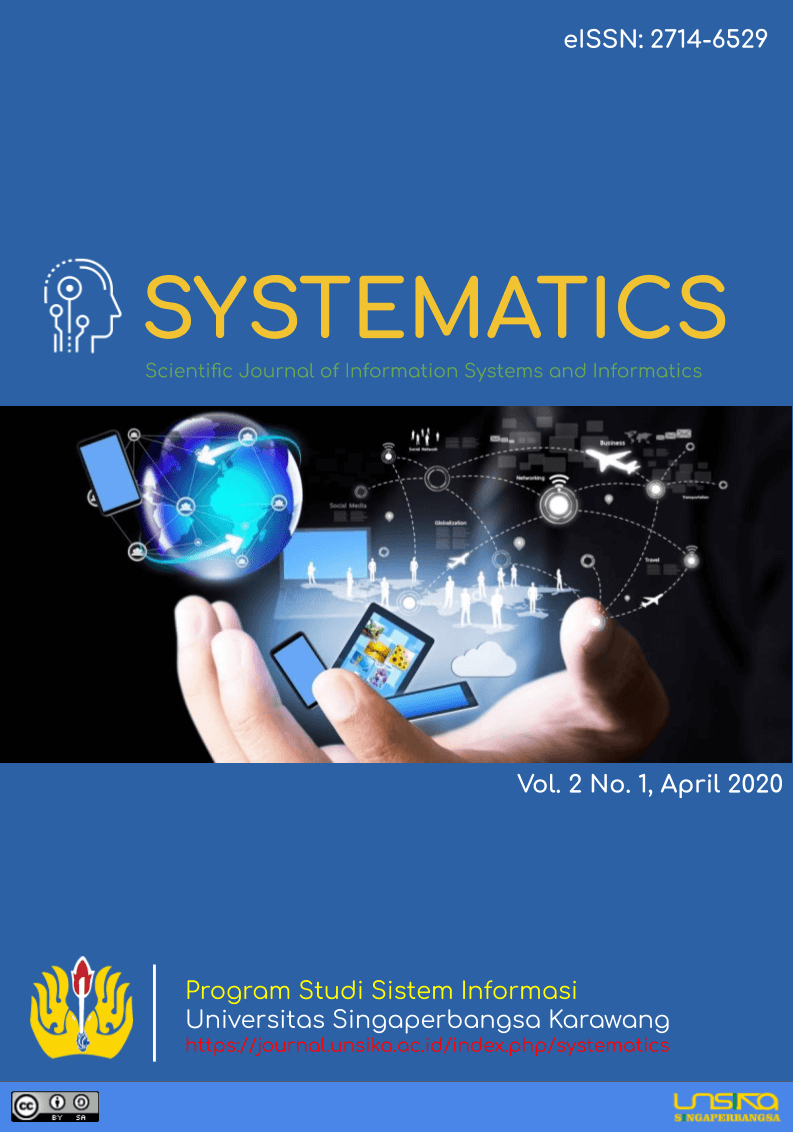 Downloads
How to Cite
[1]
A. Solehudin, R. Mayasari, G. Garno, and A. Susilo Yuda Irawan, "Perbandingan Algoritma Round Robin dan Algoritma Least Connection pada Haproxy untuk Load Balancing Web Server", Systematics Journal, vol. 2, no. 1, pp. 21-27, Apr. 2020.
License
Copyright (c) 2020 SYSTEMATICS
This work is licensed under a Creative Commons Attribution-ShareAlike 4.0 International License.
Authors who publish with this journal agree to the following terms:
Authors retain copyright and grant the journal right of first publication with the work simultaneously licensed under

a 

Creative Commons Attribution-ShareAlike 4.0 International License

.

 that allows others to share the work with an acknowledgement of the work's authorship and initial publication in this journal.
Authors are able to enter into separate, additional contractual arrangements for the non-exclusive distribution of the journal's published version of the work (e.g., post it to an institutional repository or publish it in a book), with an acknowledgement of its initial publication in this journal.
Authors are permitted and encouraged to post their work online (e.g., in institutional repositories or on their website) prior to and during the submission process, as it can lead to productive exchanges, as well as earlier and greater citation of published work (See The Effect of Open Access).