A Washback Study on Portfolio Assessment
Abstract
The latest developments in the field of learning English as a foreign language have encouraged language teachers to use more authentic and realistic assessments. This situation makes portfolios as alternative assessments increasingly popular. As the popularity of the portfolio grows, questions among assessment developers have also arisen. They question whether the portfolio really is a proper assessment. In this study, the researcher investigated the wash-back effect of portfolio-based assessment. She observed the instructional process in a translation and a writing class to see how the two types of portfolios were used. This qualitative analysis study also studies by triangulating the data with the support of data from interviews and questionnaires. Researcher then classified the opinions and reflections of students and lecturers obtained from the interview and questionnaire responses. The findings suggest the use of a portfolio is indeed appropriate for use in writing and translating subjects. Portfolio-based assessments generate positive washback effect on the learning process.
Downloads
Download data is not yet available.
References
Brown, H. Douglas. (2003). Language Assessment: Principles and Classroom Practice. New York: Pearson Education Inc.
Cain, M., dkk. (2005). Developing Portfolios For Integrating Teaching, Learning, And Assessment. Multimedia Production Centre School Of Education Faculty Of Humanities And Education The University Of The West Indies St. Augustine
Coombe, C., dkk. Alternative Assessment in Language Education.
Davies, M.G. (2004). Multiple Voices in the Translation Classroom. USA: John Benjamins B.V.
Gardner, H. & Perkins, D. (Eds.). (1988). Art, mind, and education: Research from Project Zero. Chicago: Univ. of Illinois Press.
Ghoorchaei, B., dkk. (2010). The Impact Of Portfolio Assessment On Iranian EFL Students' Essay Writing: A Process-Oriented Approach. GEMA Online ™ Journal of Language Studies. Volume 10(3).(hlm.35)
Larson, M. L. (1984). Meaning-based translation. USA: University press of America.
Mussawy, Sayed Ahmad Javid (2009). Assessment Practices: Student's and Teachers' Perceptions of Classroom Assessment Master's Capstone Projects. Retrieved from https://bit.ly/2DhLL6B
Nemati, Azadeh. (2016). Portfolio Keeping Ends to a Good Product: The Cases of Reading and Motivation. ASIAN TEFL Journal of Language Teaching and Applied Linguistics, 1(2), 187-198.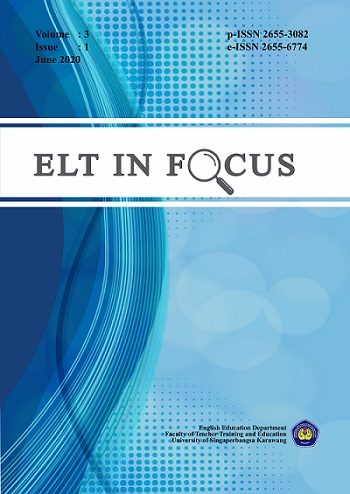 Downloads
License
Copyright (c) 2020 ELT in Focus
This work is licensed under a Creative Commons Attribution-ShareAlike 4.0 International License.