IMPLEMENTASI SISTEM ENERGI HIBRIDA PANEL SURYA PADA SITE-SITE TELEKOMUNIKASI DI AREA RURAL
Abstract
Luasnya wilayah, keadaan geografis dan tidak meratanya infrastruktur di Indonesia menjadi penyebab tingginya biaya operasional menara telekomunikasi, terutama untuk energi. Teknologi hybrid energy system panel surya merupakan salah satu alternatif sumber energi yang bisa digunakan oleh operator untuk menurunkan biaya listrik pada site mereka yang berada pada area rural. Penelitian ini bertujuan untuk membangun model perhitungan untuk HES dengan panel surya sebagai sumber energi utama pada site telekomunikasi di rural area agar mencapai cost effective operation, meningkatkan reliability dan efisiensi, yang pada akhirnya dapat menurunkan harga listrik/kWh (COE). Melihat kondisi industri saat ini, efisiensi menjadi hal yang sangat penting bagi bagi operator telekomunikasi di Indonesia. Pada penelitian ini, terbukti bahwa HES dapat memberikan efisiensi pengeluaran operasional sehingga berpengaruh pada penurunan harga listrik/kWh sampai 67%.
Downloads
Download data is not yet available.
References
[1] Elif D, Merliska. (2015). Kelayakan Teknis dan Ekonomi Pemanfaatan Compressed Biomethane Dari Limbah Cair Kelapa Sawit, Tesis magister, Departemen Teknik Elektro, Universitas Indonesia, Jakarta.
[2] Yilmaz, S., Ozcalik, H R., Aksu, M., Karapinar, C., (2015), Dynamic Simulation of a PV-Diesel-Battery Hybrid Plant for Off Grid Electricity Supply, Turkey: Kahramanmaras, Turkey Faculty of Engineering.
[3] Greening the Network: Indonesia Market Analysis (Sizing Potential for Green Power in Indonesia) April 2013, Netherland: GSMA.
[4] Hartono, J. (2013). Metodologi penelitian bisnis – salah kaprah dan pengalaman-pengalaman (edisi 6). Yogyakarta: BFE UGM.
[5] Meredith, J., Shafer, S., & Turban, E. (2002). Quantitative business modeling. USA: South-Western Thomson Learning.
[6] J. K Kaldellis., I. Ninou., D. Zalfirakis., 2011. Minimum long-term cost solution for remote telecommunication stations on the basis of photovoltaic-based hybrid power systems. Energy Policy 39 (2512–2527), Philadelphia; Elsevier.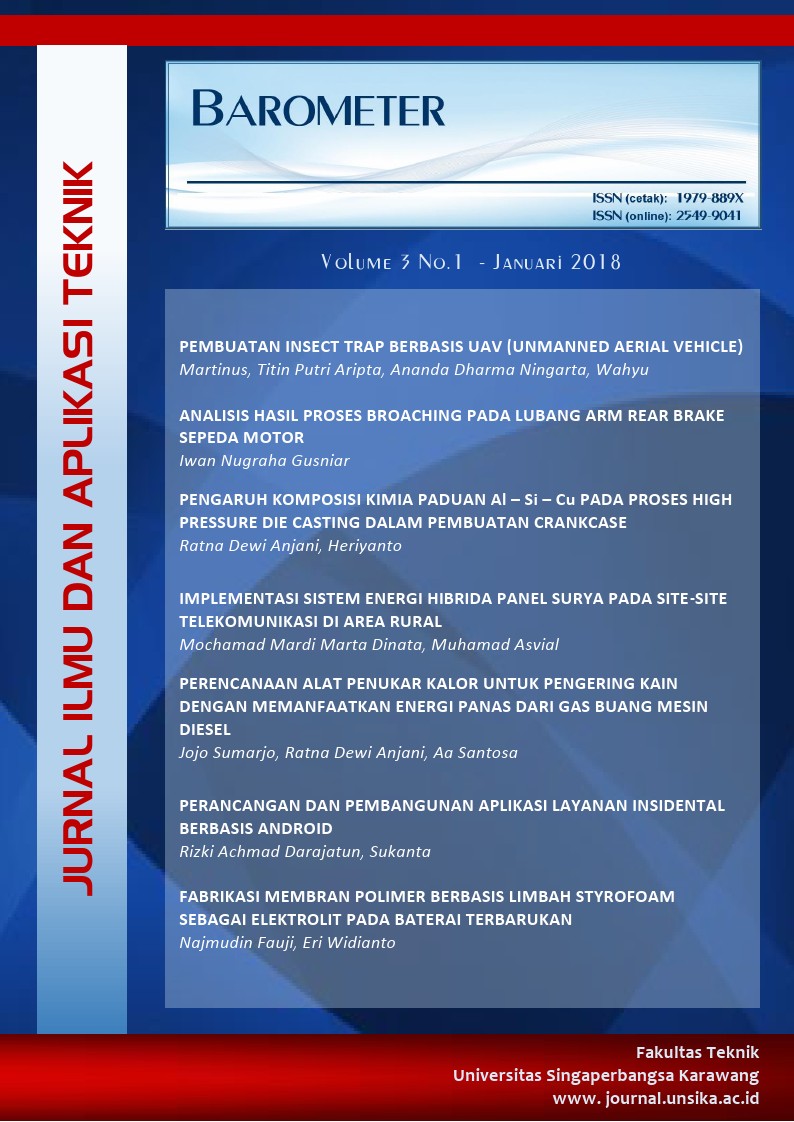 Downloads
How to Cite
Muhamad Asvial, M. M. M. D. (2018). IMPLEMENTASI SISTEM ENERGI HIBRIDA PANEL SURYA PADA SITE-SITE TELEKOMUNIKASI DI AREA RURAL. Barometer, 3(1), 96–104. https://doi.org/10.35261/barometer.v3i1.1259