Analisis Pembelajaran Mandiri Secara Daring pada Masa Pandemi Covid-19 di Tadris Matematika UIN Sulthan Thaha Saifuddin Jambi
Abstract
Tujuan penelitian ini untuk mengetahui pembelajaran mandiri secara daring pada masa pandemi covid-19 di prodi tadris matematika UIN Sulthan Thaha Saifuddin Jambi. Penelitian ini menggunakan pendekatan kualitatif dengan jenis studi kasus. Subjek pada penelitian ini berjumlah 200 mahasiswa dengan kriteria mahasiswa tadris matematika semester I, III, V tahun ajaran 2020/2021 yang perkuliahannya dilakukan secara daring. Adapun instrumen utama penelitian adalah peneliti sendiri dan instrumen pendukung berupa angket dan lembar pedoman wawancara. Angket dan lembar pedoman wawancara ini dibuat sesuai indikator kemandirian belajar mahasiswa. Hasil penelitian menunjukkan bahwa mahasiswa telah melakukan pembelajaran mandiri, hal ini terlihat pada aspek mahasiswa telah memiliki kepercayaan diri, inisiatif (kreatif), kemauan sendiri, dan menghargai waktu dalam mengikuti pembelajaran daring. Namun dari hasil penelitian terlihat juga bahwa mahasiswa masih membutuhkan support baik berupa penguatan terhadap apa yang diperoleh dan kesempatan untuk mandiri dalam hal memahami dan menyelesaikan tugas perkuliahan selama pembelajaran daring.
Downloads
Download data is not yet available.
References
Affouneh, S., Salha, S., & Khlaif, Z. N. (2020). Designing Quality E-Learning Environments for Emergency Remote Teaching in Coronavirus Crisis. Interdiscip J Virtual Learn Med Sci, 11(2), 1–3.
Babari, Y. (2002). Psikologi Belajar. Jakarta: Rineka Cipta.
Creswell, J. W. (2018). Educational Research: Planning, Conducting, and Evaluating Quantitative and Qualitative Research, 6th Edition. Pearson.
Espasa, A., Guasch, T., Mayordomo, R. M., Martínez-Melo, M., & Carless, D. (2018). A Dialogic Feedback Index measuring key aspects of feedback processes in online learning environments. Higher Education Research and Development, 37(3), 499–513. https://doi.org/10.1080/07294360.2018.1430125
Fatimah, E. (2010). Psikologi Perkembangan (Psikologi Perkembangan. Peserta Didik). Bandung: CV Pustaka Setia.
Hodges, C. B. (2020). View the full-text article online : March.
Hughes, Margaret; Hagie, C. (2005). The Positive and Challenging Aspects of Learning Online and in Traditional Face-to-Face Classrooms: A Student Perspective. Journal of Special Education Technology; Norman, 20(2), 52–59.
Martin, F., Stamper, B., & Flowers, C. (2020). Examining student perception of readiness for online learning: Importance and confidence. Online Learning Journal, 24(2), 38–58. https://doi.org/10.24059/olj.v24i2.2053
Moleong, L. J. (2010). Metodologi penelitian kualitatif. Bandung: Remaja Rosdakarya.
Rahman, H. (2000). Interactive Multimedia Technologies for Distance Education in Developing Countries - Introduction, Background, Main focus, Future trends, Conclusion. Http://Encyclopedia.Jrank.Org/Articles/Pages/6637/Interactive-Multimedia-Technologies-ForDistance-Education-in-Developing-Countries.Html.
Tirtarahardja, U., & Sulo., S. L. La. (2005). Pengantar Pendidikan. Jakarta: Rineka Cipta.
Tuovinen, J. E. (2000). Multimedia distance education interactions. International Journal of Phytoremediation, 21(1), 16–24. https://doi.org/10.1080/095239800361473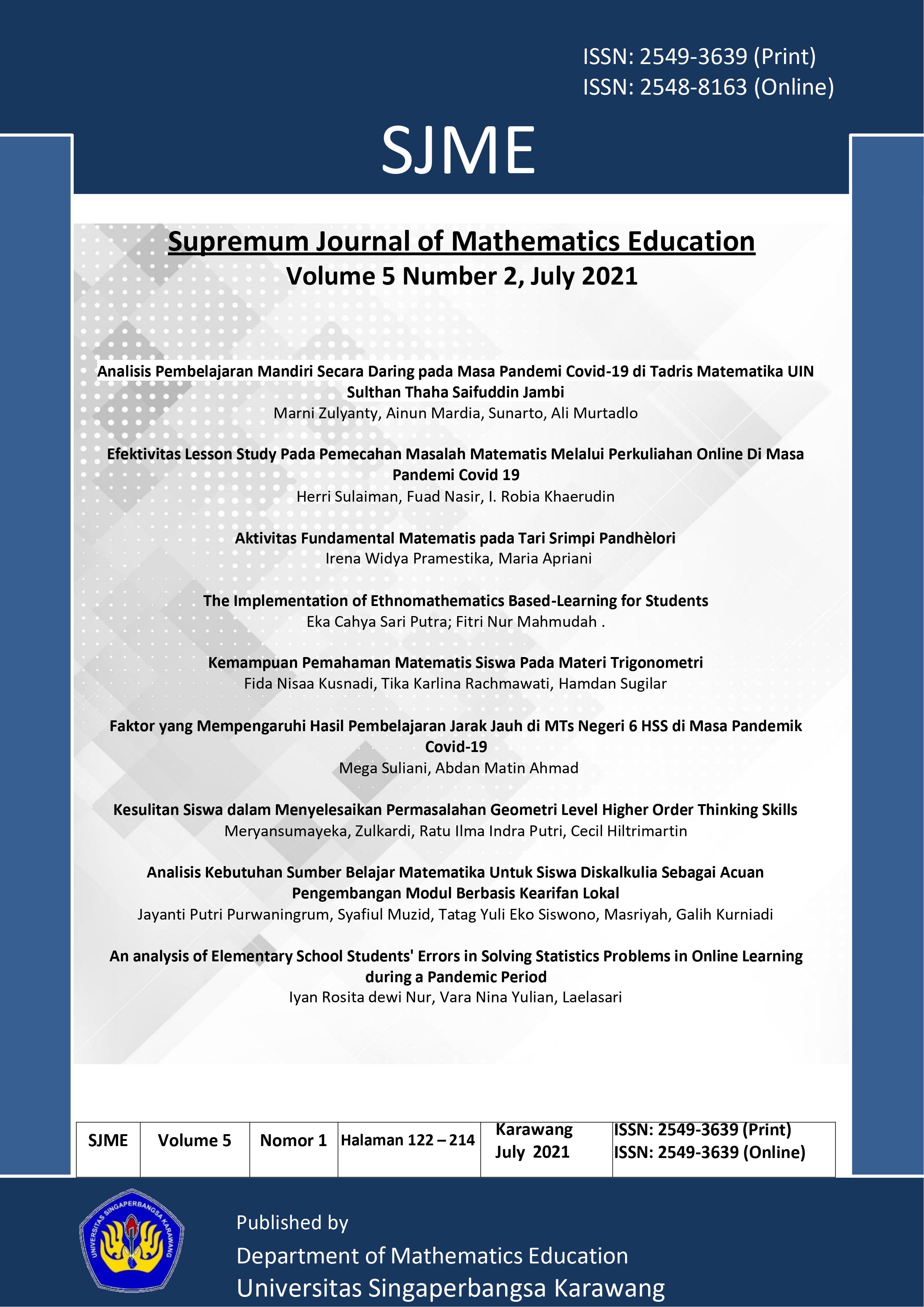 Downloads
License
This work is licensed under a Creative Commons Attribution-ShareAlike 4.0 International License.
Authors who publish with this journal agree to the following terms:
Authors retain copyright and grant the journal right of first publication with the work simultaneously licensed under a Creative Commons Attribution License that allows others to share the work with an acknowledgment of the work's authorship and initial publication in this journal.
Authors are able to enter into separate, additional contractual arrangements for the non-exclusive distribution of the journal's published version of the work (e.g., post it to an institutional repository or publish it in a book), with an acknowledgment of its initial publication in this journal.
Authors are permitted and encouraged to post their work online (e.g., in institutional repositories or on their website) prior to and during the submission process, as it can lead to productive exchanges, as well as earlier and greater citation of published work (See The Effect of Open Access).