Faktor yang Mempengaruhi Hasil Pembelajaran Jarak Jauh di MTs Negeri 6 HSS di Masa Pandemik Covid-19
Abstract
Pembelajaran jarak jauh menyisakan beberapa problem bagi para pendidik, termasuk guru matematika. Sehingga muncul berbagai berbagai macam faktor yang menjadi kendala pada pembelajaran jarak jauh. Tujuan penelitian ini untuk mendeskripsikan faktor-faktor penyebab dan cara mengatasinya serta dampaknya terhadap hasil belajar siswa di MTs Negeri 6 Hulu Sungai Selatan pada masa pandemic Covid-19. Metode penelitian yang digunakan yaitu kualitatif deskriptif dan kuantitatif. Peneliti menggunakan uji statistik yaitu uji dua mean untuk melihat perbedaan hasil belajar siswa. Subjek dalam penelitian ini terdiri dari empat orang siswa kelas IX MTs Negeri 6 HSS tahun pembelajaran 2019/2020, terdiri dari dua perempuan dan dua laki-laki yang tergolong siswa kurang aktif dalam mengikuti pembelajaran. Hasil yang diperoleh yaitu faktor yang menjadi kendala pada pembelajaran jarak jauh meliputi pelaksanaan pembelajaran hanya memanfaatkan media WhatsApp Group, fasilitas dan sarana prasarana penunjang PJJ berupa Handphone dan jaringan internet yang sering mengalami gangguan, kurangnya perhatian orang tua/wali murid pada saat siswa mengikuti PJJ, subjek merasa jenuh ketika belajar online, dan subjek mengalami kesulitan dalam memahami materi. Oleh karenanya subjek memerlukan bimbingan langsung dari guru ataupun orang tua/wali murid. Selain itu juga, guru dapat menggunakan media lain berupa video pembelajaran interaktif. Sehingga siswa lebih termotivasi dalam mengikuti pembelajaran, dengan begitu akan berdampak juga pada prestasi belajar siswa.
Downloads
Download data is not yet available.
References
Abidah, A., Hidayatullah, H. N., Simamora, R. M., Fehabutar, D., & Mutakinati, L. (2020). The Impact of Covid-19 to Indonesian Education and Its Relation to the Philosophy of "Merdeka Belajar". Studies in Philosopy of Science and Education 1(1)
Auliya, R. N. (2016). Kecemasan Matematika dan Pemahaman Matematis Formatif. JIP MIPA 6(1) 12-22
Basilaia, G. & Kvavadze, D. (2020). Transition to Online Education in Schools during a SARS-CoV-2 Coronavirus (COVID-19) Pandemic in Georgia. Pedagogical Research 5(4)
Boa, W. (2020). COVID-19 and online teaching in higher education: A case study of Peking University. https://doi.org/10.1002/hbe2.191
Ferismayanti. (2020). Meningkatkan Motivasi Belajar Siswa pada Pembelajaran Online Akibat Pandemi Covid-19. Artikel Online. Diakses pada 18 Maret 2021. http://lpmplampung.kemdikbud.go.id/po-content/uploads/Meningkatkan_Motivasi_Belajar_Siswa_pada_Pembelajaran_Online_Akibat_Pandemi_COVID-19.pdf
Goldschmidt, K. & Msn, P. D. (2020). The COVID-19 pandemic: Technology use to support the wellbeing of children. Journal of Pediatric Nursing
Gunawan, Suranti, N M Y, & Fathoroni. (2020). Variations of Models and Learning Platforms for Prospective Teaxhers During the COVID-19 Pandemic Period. Indonesian Journal of Teacher Education 1(2).
Hiebert, J., Morris, A. K., Berk, D., & Jansen, A. (2007). Preparing Teachers to Learn from Teaching. Journal of Teacher Education, 58(1).
Miles, Huberman & Saldana. (2014). Qualitative Data Analysis. Los Angeles: SAGE Publications.
Milman, N. B. (2015). Distance Education IESBS: Second Edition. https://doi.org/10.1016/B978-0-08-097086-8.92001-4
Moleong, L. J. (2015). Metodologi Penelitian Kualitatif. Bandung: PT Remaja Rosdakarya
Owusu-Fordjour, C., Koomson, C. K., & Hanson, D. (2020). The Impact of Covid-19 on Learning - The Perspective of The Ghanaian Student. European Journal of Education Studies 7(3).
Patria, L., & Yulianto, K. (2011). Pemanfaatan Facebook untuk Menunjang Kegiatan Belajar Mengajar Online Secara Mandiri. Repository UT, 1(1)
Rimbarizki, R. (2017). Penerapan Pembelajaran Daring Kombinasi Dalam Meningkatkan Motivasi Belajar Peserta Didik Paket C Vokasi di Pusat Kegiatan Belajar Masyarakat (PKBM) Pioneer Karanganyar. J+ PLUS UNESA, 6(2).
Riyani, Y. (2015). Faktor-faktor yang mempengaruhi prestasi belajar mahasiswa (studi pada mahasiswa Jurusan Akuntansi Politeknik Negeri Pontianak).
Sugiyono. (2016). Metode Penelitian Kuantitatif, Kualitatif dan R & D. Bandung: Alfabeta
World Health Organization. (2020). Clinical Management of Severe Acute Respiratory Infection when Novel Coronavirus (nCoV) Infection Is Suspected: Interim Guidance. https://www.who.int/docs/default-source/coronavirusw/clinicaal-management-of-novel-cov.pdf
Wulandari, B., & Surjono, H. D. (2013). Pengaruh problem-based learning terhadap hasil belajar ditinjau dari motivasi belajar PLC di SMK. Jurnal Pendidikan Vokasi, 3(2).
Yazid, M. & Ernawati, A. (2020). Hasil Belajar Siswa di MI NM Pancor Kopong pada Masa Pandemi Covid-19. Prima Magistra: Jurnal Ilmial Kependidikan, 1(2).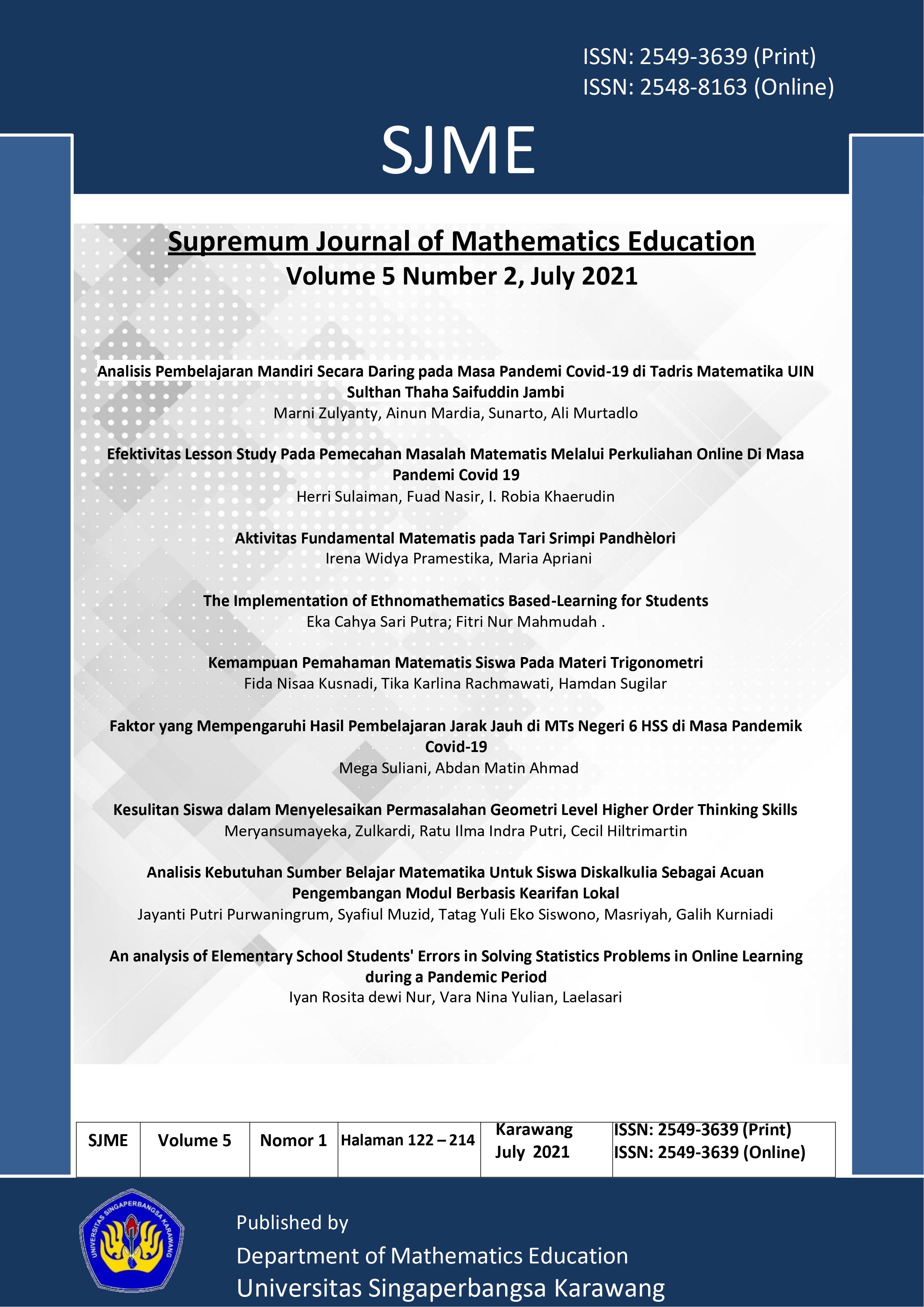 Downloads
License
This work is licensed under a Creative Commons Attribution-ShareAlike 4.0 International License.
Authors who publish with this journal agree to the following terms:
Authors retain copyright and grant the journal right of first publication with the work simultaneously licensed under a Creative Commons Attribution License that allows others to share the work with an acknowledgment of the work's authorship and initial publication in this journal.
Authors are able to enter into separate, additional contractual arrangements for the non-exclusive distribution of the journal's published version of the work (e.g., post it to an institutional repository or publish it in a book), with an acknowledgment of its initial publication in this journal.
Authors are permitted and encouraged to post their work online (e.g., in institutional repositories or on their website) prior to and during the submission process, as it can lead to productive exchanges, as well as earlier and greater citation of published work (See The Effect of Open Access).