Snackbar Berbahan Gembolo (Dioscorea bulbifera L.), Kacang Merah (Phaseolus vulgaris L.), dan Kersen (Muntingia calabura L.) sebagai Pangan Fungsional Penurun Risiko Hiperglikemia
Abstrak
Indonesia is the second country with the highest number of Diabetes mellitus (DM) in the Western Pacific region, which is 10 578 401 people. The prevalence of DM patients in Indonesia is 6-7% and this condition started with hyperglycemia. Increased risk of hyperglycemia can be caused by excess food consumption and oxidative stress. This oxidative stress can inhibit the taking of glucose in muscle cells and fat cells and disrupt ?-pancreatic cells in secreting insulin. Therefore, research is needed in relation to efforts to slow the increase of blood glucose and free radicals in the body by using various local foods that have low glycemic index values and high antioxidant activity.Local food is still rarely used from the three types of food, namely air potato (Dioscorea bulbifera L.), kidney beans (Phaseolus vulgaris L.), and strawberry tree (Muntingia calabura L.).These three foods are formulated into food products in the form of snackbar.The results obtained in the study include the percentage of rendement of extracts of 11.96%.The extracts were obtained by total phenol test, total flavonoid test, antioxidant activity test and ?-amylase inhibition test.The ethanol extract of 96% snackbar has a total phenolic content of 45 ppm + 3,512 GAE / g extract, total flavonoid content of 2,633 ppm + 0.779 QE / g extract, IC50 to DPPH of 1127.912 ppm ± 52.332 AEAC / g extract, and% inhibition with the concentration of 5 ppm and 20000 ppm against the enzyme ?-amylase are 27,83% + 1,284 and 38,61% + 0,599. Based on phytochemical results indicate that the snackbar has the potential to be further developed as a functional food lowering the risk of diabetes mellitus.
Keywords: Diabetes mellitus, air potato, kidney beans, calabura, snackbar
Unduhan
Data unduhan belum tersedia.
Referensi
Adisakwattana S, Jiphimai P, Prutanopajai P, Chanathong B, Sapwarobol S, Ariyapitipan. 2010. Evaluation of ?-glucosidase, ?-amylase and protein glycation inhibitory activities of edible plants. IJFSN. 61(3): 295-305.
Dai J, Mumper RJ. 2010. Plant phenolic: extraction, analysis and their antioxidant and anticancer properties. Molecules. 15: 7313-7352.
[IDF] International Diabetes Federation. 2017. IDF Diabetes Atlas 8th edition.. [internet]. [diunduh 9 Mei 2018]. Tersedia pada: https://www.idf.org/.
Firdausi A, Siswoyo TA, Wiryadiputra S. 2013. Identifikasi tanaman potensial penghasil tanin-protein kompleks untuk penghambatan aktivitas ?-amylase kaitannya sebagai pestisida nabati. Pelita Perkebunan. 29(1): 31-43.
Gosh S, Parihar VS, More P, Dhavale DD, Chopade BA. 2015. Phytochemistry and therapeutic potential of medicinal plant: Dioscorea bulbifera. Medical chemistry. 5(4): 160-172.
Hayat I, Ahmad A, Masud T, Ahmed A, Bashir S. 2013. Nutritional and health perspectives of beans (Phaseolus vulgaris L.): an overview. Food Science and Nutrition. 54: 580-592.
[Kemenkes] Kementrian Kesehatan.2013. Reset Kesehatan Dasar. Jakarta (ID): Kementrian Kesehatan Republik Indonesia.
Kayode RMO, Buhari OJ, Otutu LO, Ajibola TB, Oyeyinka SA, Opalake DO, Akeem SA. 2017. Physicochemical Properties of Processed Aerial Yam (Dioscorea bulbifera) and Sensory Properties of Paste (Amala) Prepared with Cassava Flour. The Journal of Agricultural Sciences. 12(2): 89-94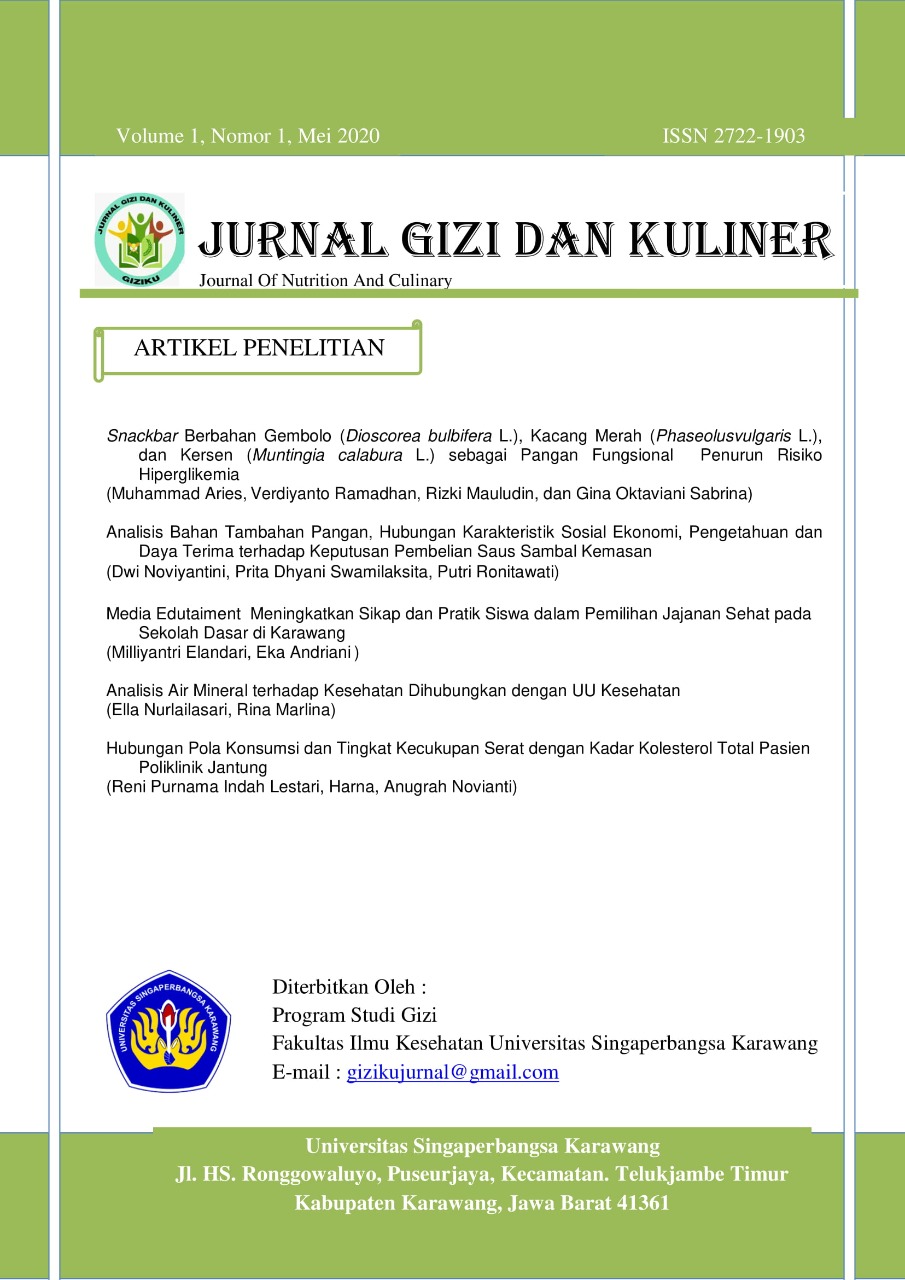 ##submission.downloads##